Today, email marketing is no longer a simple channel to contact users, but a strong tool to generate brand awareness and engagement; where strategy and creativity can transform it to become an important traffic driver, increasing digital sales and visits.
Here, copywriting plays a fundamental role getting the user's attention and making your email stand out. To get the best results, let us show you some great tips and examples to inspire you.
Best email copywriting tips to engage your user
Get ready to review some great copywriting tips that will make your email shine:
Unforgettable subject line: this is the first touch point with the user and where the success of you email will be decided. Avoid irrelevant sentences and try to be good enough to keep the user reading. Here are some quick tips:

Avoid long sentences: keep it short and simple, between six and ten words. Remember that your email can be seen in any device so take into account that a shorter phrase won't be cropped by the limited space of the screen of a smartphone.
Be active: use action verbs, looking to get a determined reaction for the user and increasing the sensation of urgency.
Personalisation: you can reach higher open rates if you include a personalised touch in your subject lines. Include real names in the "to" and "from" fields.
Always include a curated preview text: once you've won the first round and user has continued reading, it's time for the preview text. Your goal is to maintain user's interest towards the content that follows, using no more characters than the ones allowed in a tweet. Be brief and concise.
Be natural: email is a private and very personal format, so keep it natural. Use a conversational tone and avoid artificial constructions or overselling expressions. Always remember that you're talking to a human.
Don't be irrelevant: always make sure that your content is relevant to the user. Take time to understand your audience and divide them by interests, reaching them with content they will really appreciate and will boost open rates.
Include visual and clear call to actions: always highlight your call to action to make sure is really visible for the user and include expressions that will push him to take action, staying within the style and tone of the text.
Best email copywriting examples to learn from the masters
Now that we know some useful tips to guarantee the success of your email, what could be better than checking out some great examples?
Cook Smart: this is a great example of an engaging newsletter, where Cook Smart always includes relevant and curated content to the user, with yummy recipes and really easy how-tos.

Casper: Casper has a good copywriting strategy by using great preview texts, attracting all the interest in a simple and attractive sentence from the beginning, and, in this case, followed by an emotional argument about why you need a dog mattress, all of it reinforced by the photo, man's best friend enjoying a well-deserved rest on a mattress made just for him.
WeTransfer: WeTransfer has always been a master of copywriting, also in emails. Here, you can see a good example of how to communicate product launches: short and engaging texts in letter form, looking to talk with a real human and keeping it conversational. Short, real and beautiful.
Anthropologie: how could boost feedback participation rates? here's a good example: a short email with a personal touch and pushed by a great discount, how can it get any better?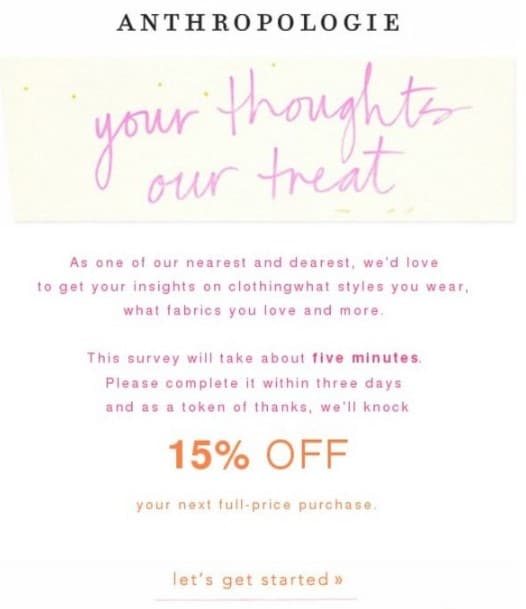 Birchbox: here we can see a great example of good call to actions. Birchbox's personalise all their buttons with a friendly expression, rather than the cold "Buy" button, keeping it within their style and tone.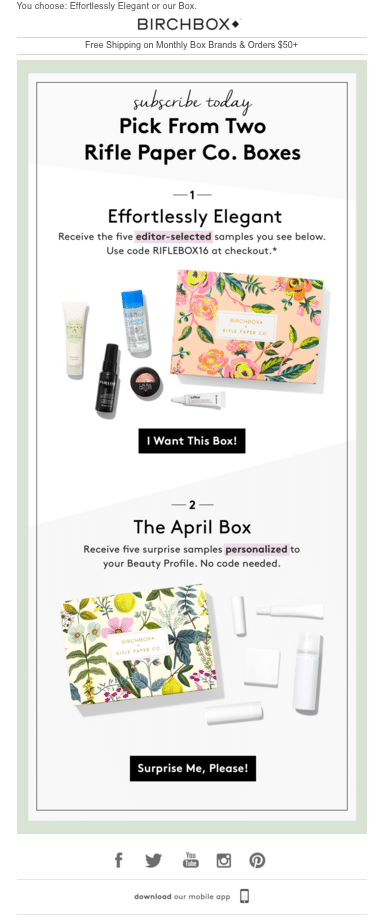 In conclusion, here we have reviewed the best copywriting tips and some great examples to inspire you if you're looking to start a strong email marketing strategy where copywriting, as you should know now, must have a special role.